Personalised Luggage Tags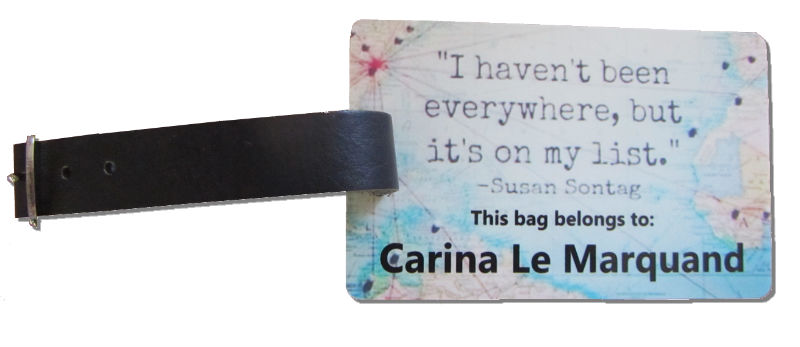 Travelling by plane, train or bus. Always know which bag is yours with these  personalised luggage tags. Printed with your details on both sides. Add an image to make your luggage stand out from the crowd. All included in our prices.
Travel is stressful.
Did we lock the garage?
Have I got that special top? (the one that was in the wash!)
What's the name of our hotel?
Kevin!!!
These and many other pressing questions race through our minds on the way to the airport.
You can remove one of the major stresses of holiday and business travel by choosing ClubCards121 personalised luggage tags.
Personalised luggage tags – Benefits:
No possibility of picking up someone else's luggage by mistake
Or of someone inadvertently grabbing yours!
Outgoing accommodation details immediately to hand
Easy to spot your luggage items on the carousel
No last-minute panic – hunting for and writing luggage tags!
Relax and enjoy that wonderful feeling of being prepared and organized for your trip with bespoke, durable luggage tags.
Personalised Luggage Tags – Features:
Credit card size
High quality plastic – plenty tough enough to withstand the rough and tumble of airport luggage handling
Full colour with your choice of attractive design and/or image
Printed with your full contact and accommodation details, exactly as per your specification
Complete with leather luggage tag strap
"We presented our design and information to Andy, who quickly provided us with examples for us to choose from. Once we chose the design we both liked, they were sent to us in a matter of days. Toni and I love the end product. A friendly and prompt service."
Sylvester Swanston, Crawley, West Sussex
All safely delivered to your door by 1st class mail.
PRICE: £4.95 per card
including VAT & Delivery
KEY FOBS
ClubCards121 also supply key fobs. These are one-third of the size of our luggage tags.  The perfect way to promote your business.
 CLUBCARDS121
Adding personality to your holiday or business trip!
To place your provisional order for Personalised Luggage Tags, just click here