Here at ClubCards121 we aim to build close relationships with our customers. This is about the RNCDA.
"The Royal Navy Clearance Diving Association, came to us for membership cards but they needed to be different from the norm!
This is an organisation set up to maintain the friendship and camaraderie for the hard working, severe risk-taking mine clearance divers of the Royal Navy.
The RNCDA wanted their customised membership card to meet specific requirements. This would enable the ex-serving members of the association, to still access certain "sensitive" sites. Because of the security aspect we can't detail all of the aspects of their card but we were very pleased to be able to support them by tailoring their card to meet their exacting requirements.
But there was a unique little story that went along with the design of the card – and not related to security or proof of ID that we can share.
The three pictures on the back of their membership card, depict two navy divers going about the business along with a commemorative coin. The diving pictures are actually pencil drawings by an associate member which were sold to raise funds for the association.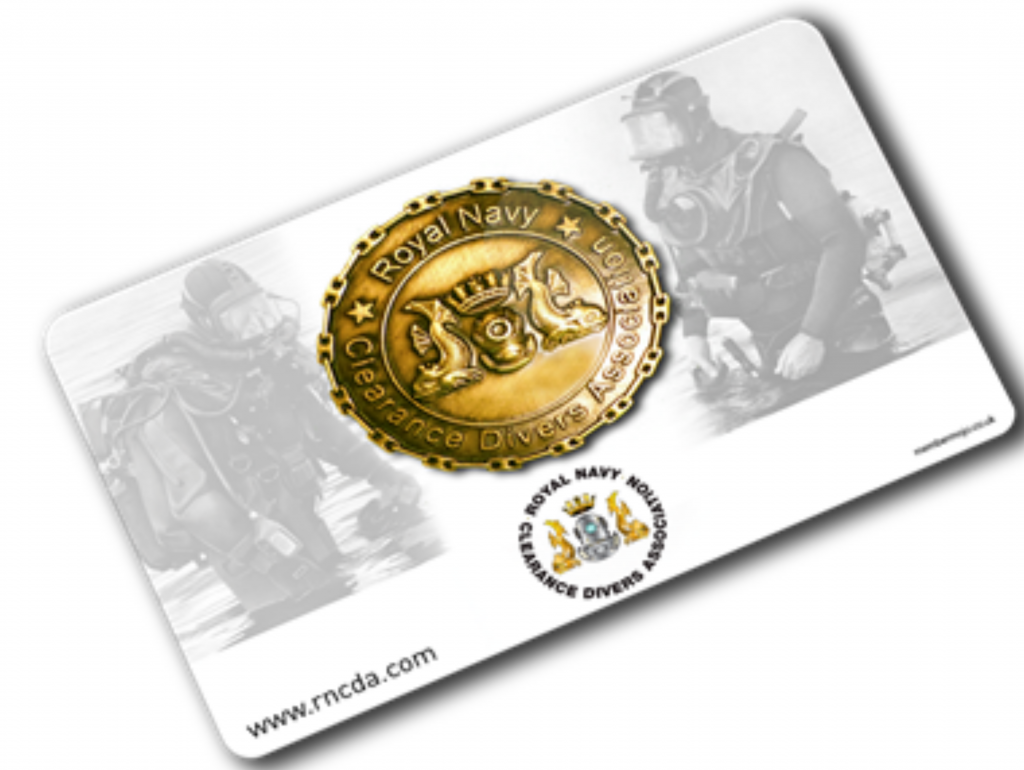 The commemorative coin, is a token of their loyalty and Brotherhood. It should ALWAYS be carried on their person. And the reason for this? Well, should they meet another member, they could be open to a Coin Challenge. If they meet each other in public and one challenges the other, they must both show their coin. Should one of them not have it on their person, a visit to a local hostelry is paid for by the one who forgot their coin.
Our customer did have to tell their members however that using their card as evidence of the coin, did NOT count as having the coin on them.
The RNCDA have a members only area on their site for members to share their Coin Challenge photos. If this were a competition, the leader would probably be this one – two members challenging each other whilst swimming with Sharks in the Red Sea. Only one had their coin!
We were so pleased to be able to help them with this card that enables these brave servicemen and women to continue their unique comradeship. It was great fun being able to speak to their membership secretary and learning about the RNCDA's membership scheme and the work that these guys do."
with kind permission of: Tony Sexton (Membership Secretary) at the Royal Navy Clearance Divers Association.